How to increase security for eCommerce web hosting
Credit card fraud is distressingly common, and no one wants to be the one to suffer. These understandable concerns about fraud and theft make many people way of using their credit card to make purchases online, but when you're running a business website through eCommerce web hosting, you need to find ways to reassure people that it's safe to buy items from your site.
Fortunately, today's security solutions have kept up with advances in credit card fraud, and now there are a number of ways to increase security for eCommerce web hosting and encourage customers to carry out online transactions. As managed WordPress hosting experts, we know that one effective, easy, option is to use SSL certificates on your site.

What is SSL?
Because the owners of online businesses need secure eCommerce web hosting that protects customer information, standards were set up to secure data. The first was the Secure Sockets Layer Protocol, or SSL, which encrypted data streams so they couldn't be read by hackers. SSL (and its successor TLS) exists to encrypt data for security, not to save data as some people mistakenly think.
Over time, newer and more effective protocols were developed and SSL became deprecated. The Transport Layer Security (TLS) Protocol became the standard that was established for the transmission of secure information over the internet, but people tend to use SSL and TLS interchangeably to refer to secure data transmission over the internet.

Migrate to uPress within 24 hours
Why use a TLS/SSL certificate with your eCommerce web hosting?
When you apply an SSL certificate to your WordPress site on eCommerce web hosting, it turns your web address from http:// to https://. This change is one that customers already widely recognize as a sign that trust this website to keep their sensitive financial information secure.
When your eCommerce web hosting uses an SSL certificate, it encrypts all the sensitive information that travels through the internet. Information that's been encrypted with an SSL key can only be decrypted and read by the server or domain that has the key, which means only legitimate, trusted sites that were designated to receive and read it.
This is immensely important because when information travels between computers and devices, there are malicious actors trying to hack into the information stream. If they succeed in hacking into unencrypted information, they can easily read everything in it, including credit card numbers, usernames, passwords, residential addresses, etc.
How does a TLS/SSL certificate work to secure sites using managed WordPress web hosting for eCommerce?
Both TLS and SSL certificates work in the same basic way, using the public key/private key principle:
A public key sits between the server (i.e. your website) and the client (i.e. your customer), but the private key is only stored on the server side.
When a request is sent to the server, the browser encrypts the data using the public key. This encryption can only be unlocked using the private key.
When the server accepts the request, it verifies the information was received correctly and decrypts it by combining both the public and private keys before passing the information on to the application (e.g. your WordPress online store).
What is the Encryption Function?
The encryption function basically verifies that the client has connected to the correct server. It then creates a secure communication channel by encrypting information passed between the user and your website. The encryption function makes sure that all the data reaches your website, without any errors or disruptions. If there is a mistake, the server will request an automatic replay from the browser.
Why is encryption important for eCommerce-based managed WordPress hosting?
Encryption prevents unauthorized entities from reading information passed between the client and the server, which is called a Man In The Middle Attack;
Enables customers to buy goods and services using a credit card;
Secures sensitive information that's transferred online, like addresses, driver's license numbers, passport or identity numbers, bank account information, etc.;
Google prioritizes sites with a TLS/SSL certificate and boosts them in its search engine rankings.
How to get a TLS/SSL certificate
We're happy to tell you that uPress allows you to install unlimited TLS/SSL certificates for no extra cost.
If you aren't a uPress Customer
Visit our Packages for Non-Geeks page to select the right managed WordPress web hosting package for your eCommerce needs, or reach out to us and ask us directly!
If you are a uPress customer
Enter your Management Panel and look below the Security tab
You'll see a category marked "TLS/SSL Certificate"
Click "Send Certificate Request"
The uPress team will quickly and professionally add the TLS/SSL Certificate to your WordPress site on your eCommerce web hosting. You will be notified as soon as the installation process is complete.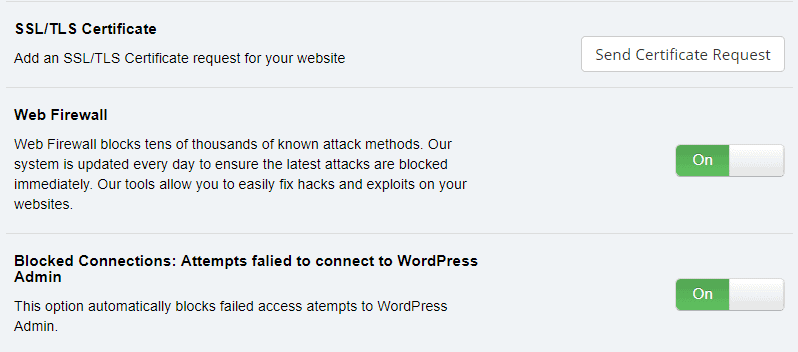 SSL/TLS certificates are vital for a secure eCommerce site
Now you understand about the many benefits of a TLS/SSL certificate, the role of encryption, and how encryption works, you can steam ahead to add a TLS/SSL certificate to your WordPress site.
At uPress, it's our goal to provide all our customers with TLS/SSL certificates to make sure your managed WordPress hosting experience is more reliable and secure.
As managed WordPress hosting experts, we know what we're talking about, whether you need advice on using SSL certificates, what other preventative maintenance you need to perform, or you just want to know why your site is running slow. You can trust us with the entire gamut of WordPress questions, so the only one left is... why aren't we hosting your WordPress site yet? Click below and join us.